Newsletter
Services
The AI Revolution in India: Improving Lives & Businesses
BY QDegreesPUBLISHED
Mar. 01, 2023
---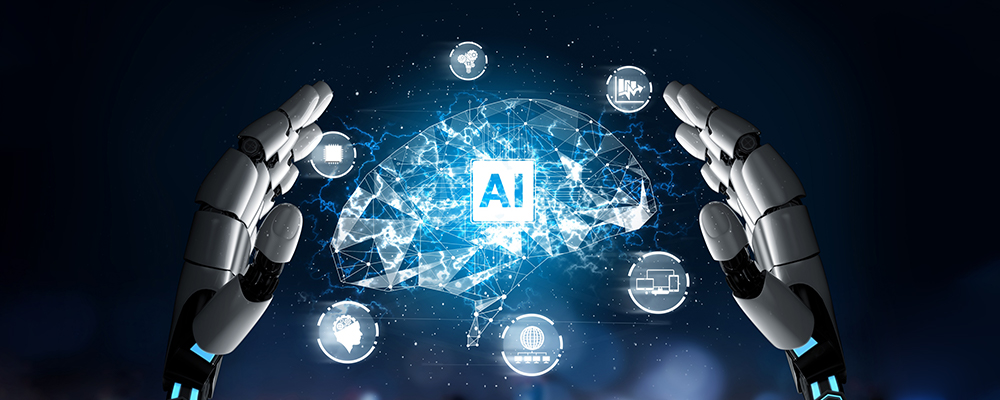 Over time, India has emerged as a critical player in the global AI landscape, with significant investments and initiatives aimed at developing the ecosystem in the country. The investments in Artificial Intelligence (AI) in India are set to reach a total of USD 881 Million by 2023, with a Compound Annual Growth Rate (CAGR) of 30.8%. This indicates a strong trend towards the adoption and implementation of AI technology in India, with more and more industries recognizing its potential to drive efficiency.
The Indian Government has taken several initiatives to promote the development of AI in the country. These include setting up AI Centers of Excellence, launching the MCA 3.0 initiative to promote the adoption of AI in the micro, small & medium enterprises sector, and collaborating with the US for the US-India Artificial Intelligence Initiative. In 2019, govt. used AI to automate providing farmers the information about weather conditions, crop health, and market price through an AI-based agricultural monitoring system called Kisan Suvidha.
From enterprises entrepreneurs to end-users- AI has now become easily accessible to all, making even routine processes easier. As for Indian Consumers, AI has brought about several benefits, such as increased efficiency, improved productivity, and enhanced decision-making capabilities. AI-powered devices and platforms have become very common, like digital assistants through Siri and Alexa. People are using them to make calls & open navigation while driving, setting reminders of basic tasks at home. From music to managing- these digital assistants are making everything easy.
India Versus Global AI Market
The impact of artificial intelligence on the global economy has been significant, with many countries investing heavily in AI research and development. AI will significantly impact India's economy, too, with a projected increase of USD 957 billion by 2035, which represents 15% of the country's current gross value. In addition, expenditure on AI in India has increased by 109.6% since 2018, amounting to USD 665 million, ultimately leading to its growth.
In terms of global rankings, India is making progress in its AI capabilities. India ranked 14th in the world in terms of AI readiness and adoption in 2021. Below is a tabular representation of the involvement of some major countries in terms of AI research and Investment.
Effect of AI on Businesses & Organizations
A study found that 70% of enterprises have implemented AI in some form. This is indicative of the growing trust and confidence that users have in AI, with the report stating that user confidence in AI has increased from 72% to 92%. There was a 45% rise in organizations adopting AI in India after the COVID-19 outbreak. Another report has revealed that 87% of companies in India are using AI to improve their email marketing campaigns and forecast sales. This highlights the immense potential of AI.
For AI adoption, Manufacturing Sector is leading in front, followed by Banking & Finance, Education and healthcare sectors, respectively. Various telecom companies & e-commerce platforms have completely automated their customer support through AI by creating templates of responses to various FAQs. This has reduced the need for manual support and has also quickened the processes. A famous e-com giant uses AI to create personalized search recommendations for its users by using image recognition for suggestions, product discovery & grouping as well as for catalog search. This enabled the firm to reduce its cart abandonment frequency.
QDegrees conducted a poll online, asking participants if Artificial Intelligence is taking Over Human Intelligence. 45% of respondents are already convinced by the thought, 33% chose No, and 23% think it's too early to decide. Another survey by PwC shows that 56% of CEOs in India are examining the benefits of humans & machines working collectively. Furthermore, 90-100% of business decision-makers between the ages of 26-30 and 36-40 strongly believe that AI advisors can give tough competition to their human counterparts.
Penetration of AI in India in metro & non-metro cities
The proliferation of artificial intelligence has significantly reduced the gap between metro and non-metro cities in India in terms of routine tasks of both Home & Office. In the past, executives in metro cities led the charge in automating tasks using AI, but today, companies in non-metro areas are also embracing this technology to increase efficiency and productivity.
AI-powered devices like smartphones, smart speakers, and smart TVs have become increasingly popular in India, with more and more people using these devices to access information, entertainment, and other services. AI-powered virtual assistants like Siri, Google Now, Cortana, and Alexa have also become common features on smartphones and smart speakers, providing users with a range of services and capabilities, from setting reminders and alarms to ordering food and making payments. Metro cities have witnessed an increase in the adoption of AI in the workplace, with executives automating tasks such as email communication, data analysis, and decision-making processes.
Some of the major cities in India, such as Bangalore, Mumbai, and Delhi-NCR, are leading the way in terms of AI adoption and development. Bangalore is often referred to as the "Silicon Valley of India," it is home to some of the country's biggest tech companies. Delhi-NCR, a region, is also emerging as a hub for AI development, particularly in the healthcare and education sectors. And Mumbai is also seeing a rise in AI adoption, particularly in the banking and financial services sector.
Non-metro areas have also caught up to the trend of AI, with brands and consumers actively using the tech to stay connected with each other & staying updated with trends worldwide. They are also using AI-based mobile apps to offer free services such as news updates and music streaming to their customers.
Although there is no specific data on the usage of AI in Non-metro cities, it is likely that some of the larger non-metro cities, such as Pune and Ahmedabad, may have a higher usage of AI due to their growing tech industries and startups.
Conclusion
The benefits of AI in India are becoming increasingly apparent as more and more businesses and organizations are adopting technology to enhance their operations. Now, employees can focus on complex tasks as AI can automate repetitive ones. AI is also helping to enable companies to develop new and innovative products and services that meet the evolving needs of customers.
Many companies in India are involved in developing AI-based solutions, including large tech firms and startups. This has led to the creation of a vibrant ecosystem of AI experts and entrepreneurs, driving innovation and growth in the industry. Overall, the adoption of AI is transforming different aspects of society and the economy in India, including healthcare, education, finance, and agriculture. As such, it is expected that the adoption of AI will continue to grow in the future, further enhancing India's position as a leading global technology hub.
Source: Qdegrees, Government website, News, Pwc, Accenture, PWC